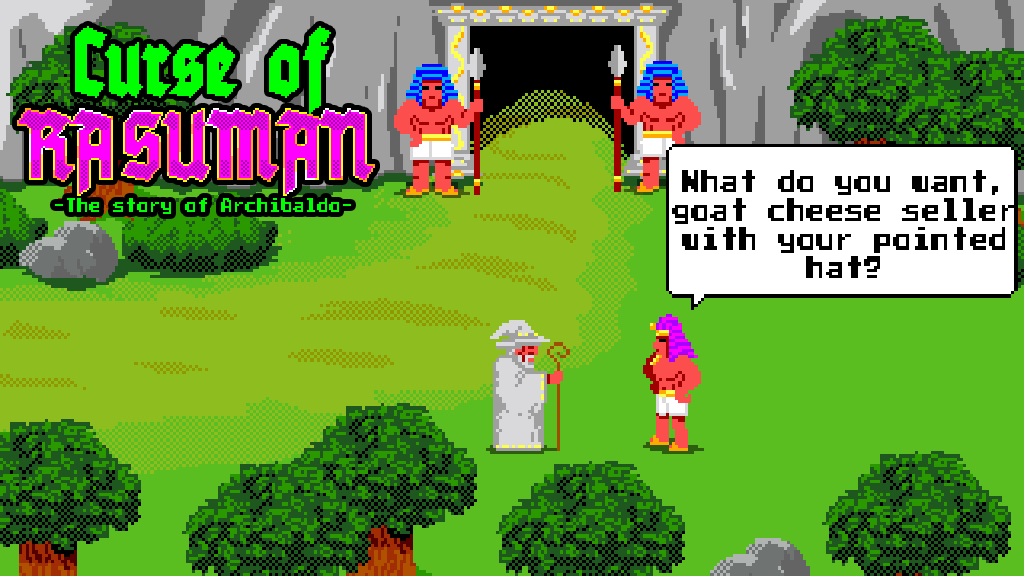 CURSE OF RASUMAN
A downloadable game for Windows
The story of Archibaldo is a big adventure inspirated by the old Sierra and Lucasarts games in EGA limited colour palette but playable using the keyboard or a controller with a simplified and instinctive gameplay.
If you are not allergic to pixels, limited colour palette and if you like adventure, this game is for you!
Even if the game use a EGA limited colour palette, it runs perfectly on all recent or old PCs whatever your version of windows! You don't have to take out your old EGA PC to play it!
No puzzles! You won't find puzzles in this game but only adventure, varied landscapes and funny encounters. So you won't be stuck in a puzzle as is so often the case in many adventure games!
You will follow the adventure of a old magician in a crazy world and meet other characters who later will be the heroes of other games that I will put on kickstarter soon. All these characters intersect regularly in each game and the playable character will be different in each game.
I really want to create an huge sprawling saga
You are Archibaldo, the magician of the Northland. You are looking for the sorcerer Rasuman who seems to be behind the disappearance of the villagers.
The game begins, when after a long journey, you finally see Rasuman's tower from the top of a cliff. But the journey will be long before you reach it, many traps await you!
You can choose between several paths, the game is not linear but some items and some encounters will be necessary to be able to progress in the adventure.
Use the keyboard or a controller to play (simplified and instinctive gameplay)
In this first game of the Rasuman saga, you will explore the region to the north.
Here is all the usual biome of the northern hemisphere such as deciduous forests and conifers, rustic dwellings, caves, mountains ...
There will be more than 100 different backgrounds and a discovery with each new screen!
The images speak for themselves.
So if you haven't experienced the golden age of the old Sierra and Lucasarts games, it might sting your eyes a bit.
However, I will advise young players to try my game because they might be surprised to find a pleasant experience from another time.
Playing this game is a bit like going back in time and discovering a game that could have existed at that time.
Purchase
In order to download this game you must purchase it at or above the minimum price of 7.50€ EUR. You will get access to the following files: